Recent News
12 June 2014
Sidas going International
We have just expanded our operations to the following countries: Maputo, Zambia, Guinea, Conakry and the other two will be soon be operational in Kenya and Sierra Leone. Our expansion is guided by the demand and our professional services that our clients appreciates and recommend us to various institutions. Our operations in Maputo are currently mainly based on Shopping Mall, private homes, alarm installations and CCTV camera in stores and homes. The government and the banks have approached us to provide Cash Transit. In Zambia mainly is armed response, providing security in mines and tracking devices for transportation of goods from factories to the consumers.
In Guinea, we have just established a new office situated at Siege social c/kalsomine, lama ya avenue 8.face police routiere- Banguer- Conakry with 100 personnel whilst the 400 are currently undergoing a training in South Africa and the training is conducted in French. We have realised that in Guinea, security industry is not been taken serious as the case in South Africa hence we are currently working together with the authorities in Guinea to restructure the security. Our starting point is to demilitarize the protection of the Executive and convert it to a professional VIP protection.
Sidas Empowers Educators
It is said that Education is the most powerful weapon one can use to change the World, with these words said, it is imperative that each and every one of us contribute to achieving this goal. Remember that education is the key to success - educate a child and build a nation!" So say the  M.D of Sidas Security Guards Mr. Nqoba.Victor Sidambe.
Mr. Sidambe has recently contributed school uniform to SomeluLwazi primary school in Freedom Park, Devland and is continually taking part in the "Adopt a Student" initiative. This is indeed the best gift ever since no one can take education away from you.
It is so great to have someone like him who is continually and effectively contributing to the well-being of the underprivileged and ensuring that they get a good education.
Find Us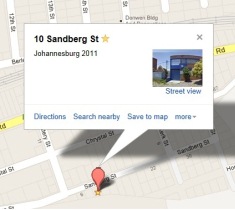 View Larger Map
Our Info
10 Sandberg Street
Denver, Johannesburg
Phone: (+27) 11 615 1249
Fax: (+27) 11 615 1268
Hotline: (+27) 83 2999 250
E-mail: info@sidas.co.za
About Us

Company Overview
Sidas Security Guards is a 100% black owned and controlled company, with level 1 BEE contribution and 125% procurement recognition status and has been operating since year 1996 providing a full range of security services across all market segments. It is a registered entity, registration number 2003/018812/07 and is also a member of the Private Security Industry Regulatory Authority (P.S.I.R.A. number 1054224).
Our Values
We place our customers' protection first
We believe in open and honest working partnership with our clients
We are committed in understanding the specific needs of each of our client to ensure satisfactory excellent service delivery.
We stay informed in order to be at the forefront of our industry
We comply with the Republic of South Africa governing laws and regulations on Private Security Industry Regulatory Association.
We Customise our Service to Meet Your Needs
At Sidas Security Guards we understand every business is unique. So the first thing we do is work with you to develop a Standard Operating Procedure that is tailor-made to your particular security needs. We don't just look at protecting your physical assets and personal welfare, we also include details for protecting the integrity and credibility of your business operations and branding image. From the reporting of a faulty light bulb through to managing public relations issues that arise after hours, we develop the systems and procedures that will help us keep your business secure and efficient 24 hours a day, seven days a week.
Our Guards Notice the Details and Act on Them
Once we have devised a Standard Operating Procedure specifically tailored to meet your needs, we recruit and train a team of guards to personally implement those procedures. Our guards are trained to notice the details and act on them. They know that when on duty they represent you and your business. In consultation with you and the Sidas Security management, our guards give regular feedback about your customised Standard Operating Procedures, which then evolve with your business needs to remain 100% effective at all times.
Our guards are well supported by Sidas Security management and equipped with everything they need to do the job, from their full corporate or combat uniform to the latest technological tools. Our guards go through a rigorous recruitment process and most are hired from referrals. Our guards benefit from above average pay, specialised training and support, variety, a positive working environment and opportunities for promotion within the company.
Our Management Provides Personal Service
Sidas Security management is committed to retaining your business by going the extra mile. We pride ourselves on the close relationships we maintain with our clients and on the systems we have created to ensure the successful deployment of our people and resources.
Each person in the management team contributes a wealth of knowledge and a positive proactive attitude. We recruit and train our guards personally in-house as this allows us to pass on our dedicated expertise. Our training programs are comprehensive and effective and once our guards are on the job we keep in close contact with them to ensure they are well supported.
We Ensure a Seamless Transition
When you sign up with Sidas Security we manage the transition so it is problem-free. From the moment our guards take over they will know what to do and will be supported by Sidas Security management to implement the Standard Operating Procedures that have been carefully devised for your site.
We Keep in Close Contact with our Clients
Sidas Security is dedicated to continuously improving our service and value feedback from our clients at any time. Please see our Contact Us section where you can provide us with your feedback.
How we Handle Complaints
Despite the best attempts to foresee all eventualities, sometimes things go wrong.
Our promise to you is that we will respond quickly and in consultation with you at all times. We will make it our top priority to ensure the least disruption to your business.
We Maintain the Highest Performance Standards
Sidas Security is a fully licensed security company and employs only licensed security guards. We follow a code of best work practices that are backed up with rigorous internal quality control procedures. Sidas Security employs the latest technology to support our guards including fleet tracking and wireless technology that provides you with accurate and verifiable mobile patrolling reporting.
We make it our business to:
Minimise waste
Use rechargeable batteries in our torches
Use diesel to run our vehicle fleet
Communicate electronically rather than by paper